Let Tony do the work! Our family packs are have everything you need
to give your family and friends a meal they won't soon forget!*


Our Legendary BBQ Family Packs
Choose From Pulled or Sliced Pork, Sliced Beef Brisket
Feed Four – 1 lb. Pork, 4 Buns, Sauce, 2 Pint Side Items    $20.99
Feed Six – 1 ½ lb. Pork, 6 Buns, Sauce, 3 Pint Side Items    $30.99
Feed Eight – 2 lb. Pork, 8 Buns, Sauce, 4 Pint Side Items    $40.99
Feed Ten – 2 ½ lb. Pork, 10 Buns, Sauce, 6 Pint Side Items    $50.99
Add $5.00 for Beef Brisket

Hickory Smoked Ribs – Choose From Baby Back or St. Louis Style Ribs
Feed Four – 1 Rack Ribs, 4 Fried Rolls, Sauce, 2 Pint Side Items    $35.99
Feed Six – 1 ½ Rack Ribs, 6 Fried Rolls, Sauce, 3 Pint Side Items    $49.99
Feed Eight – 2 Racks Ribs, 8 Fried Rolls, Sauce, 4 Pint Side Items    $65.99
Feed Ten – 3 Racks Ribs, 10 Fried Rolls, Sauce, 6 Pint Side Items    $80.99
Bulk Orders
All our meats are available for $10.99 per pound
$7.99 1/2 pound
*Beef Brisket add $3.00
Bulk Side Items
Baked Beans, Cole Slaw, Potato Salad, Green Beans,
Mac and Cheese and Side Salads are available in 1/2 Pan sizes
$25.99 ea.  (feeds 15-18 people)
Available for pick up when ordered at least 48 hours in advance

Sweet Endings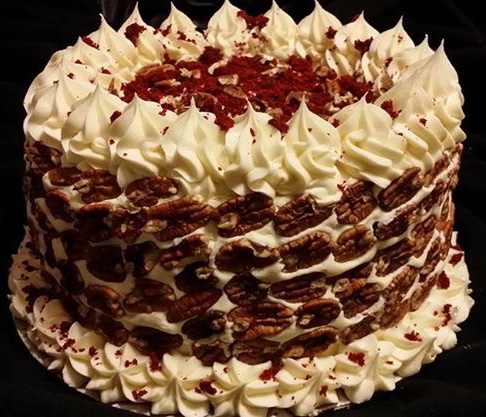 Delectable Cakes – $75 each
Fantasy Fudge, Coconut, Fresh Strawberry Sensation, Banana, Chocolate Elegance,
Reese's Peanut Butter, German Chocolate,
Red Velvet, Fresh Strawberries & Cream,
Humming Bird, Almond Joy, Butterfinger, Oreo
Tony's Homemade Pies – $25 each
Chocolate Meringue , Coconut Cream, Butterscotch Meringue, Banana Cream,
Caramel Apple, French Coconut, Key Lime,
Lemon Ice Box, Apple Crumb, Cherry Crumb
Smoky Mountain Cheesecakes – $60 each
Plain , Coconut, Strawberry, Banana, Reeces Peanut Butter, Banana Split, Butterfinger, Caramel, Cherry, Apple, Caramel Apple
Other Mouth-Watering Homemade Desserts – $40 each
Peach, Blackberry, Strawberry Cobbler, Pecan Cobbler, Banana Pudding

Take Home Tony's Delicious Hand-Made Sauces
& Dressings Today!
16 oz. bottles available at the counter or order online at our online store
Tony's Family Recipe BBQ Sauce
Carolina Fire Water Sauce
Gold 'n Them Thar Hills BBQ Sauce
Hot and Spicy BBQ Sauce
Black Gold Sauce
Homemade BBQ Ranch
Vidalia Onion Vinaigrette
Wishbone Italian
Homemade Hwy 66 Ranch
Tony's Famous Smoky Mountain Dressing
*Family Packs are available "To Go" only. Not available for dining in the restaurant.
Pre-Order Schedule: Please allow us time to prepare your order before you need to pickup.
Payment due when order is placed.  No cancellations.
Please verify you have all items before you leave, on the day of pickup.
Delivery is available (Delivery and fuel charges apply)
Forty-eight hour notice is required for delivery.